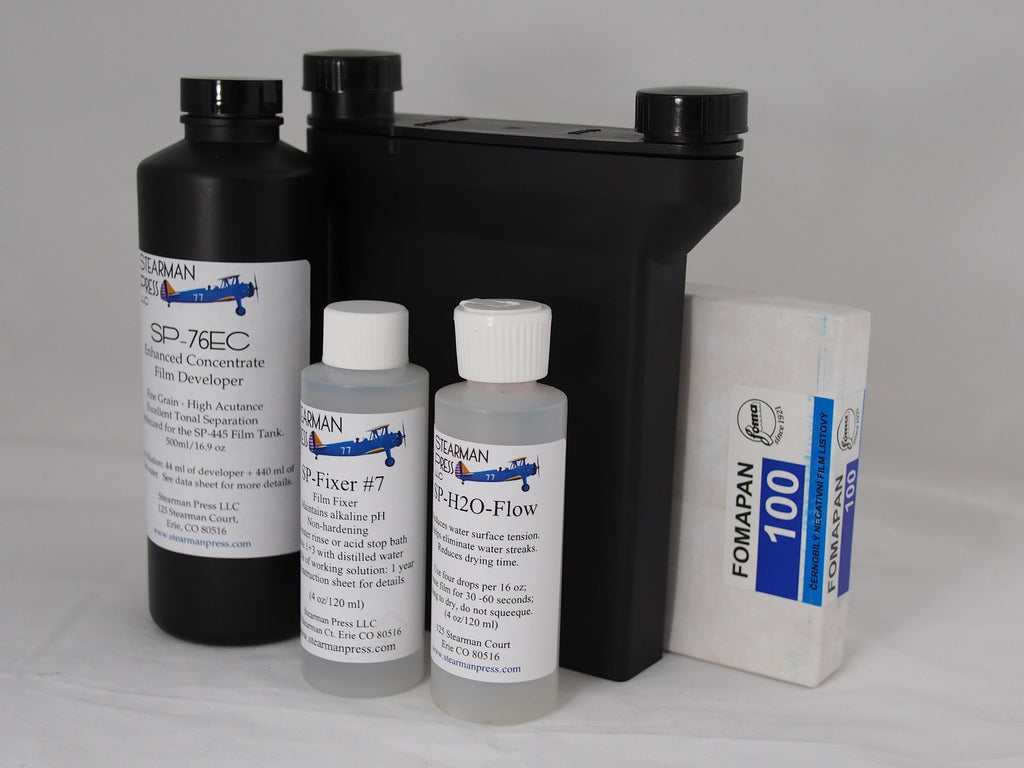 Flight Pack: SP-445, Foma film (100, 200 or 400 ISO) and chemistry
---
Everything you need to get started with large format (except a camera):
1 - SP-445 film processing system
1 - box (50 sheets) of Fomapan 4"x5" film. Your choice of:

1 - bottle (500ml) of SP-76EC film developer
1-  bottle (4 oz) SP-Fixer #9
1 - bottle (4 oz) SP-H2O Flow II
 The SP-445 film processing system:
Process up to four sheets of 4x5 film at a time.
Uses only 16 oz (475ml) of solution
Daylight safe
Fills and drains fast
Inversion agitation, Stand development or anything in-between
Built-in liquid level indicators
Easy use of a thermometer during processing
Rugged ABS plastic
Industry standard O-ring seal
NOTE: includes the new Rev 4 film holders.
The film: Fomapan 100 boasts a "classic" style emulsion that renders deep blacks, crisp whites and beautiful grays. It is a panchromatically sensitized, black and white negative film rated at ISO 100/21. This film is characterized by high resolution, wide exposure latitude and fine grain. Great for the novice refining their skills and for the expert seeking to replicate the vintage look of yesteryear.
The chemistry: SP-76EC is a phenidone-based developer that can be used with all black and white films. It is a general purpose film developer that will provide fine grain, high acutance and excellent tonal range.
Novice users will appreciate its forgiving nature. This is due to the addition of inhibitors that help prevent over-development. Advanced users can tune the dilution ratio to suit their particular needs.
Note: H2O-Flow II is now included. Slightly different formula; same great results.

For more info on the film: Foma 100
SP-fixer #9 MSDS 
Here's a couple of short videos:
Intro to the SP-445
---
More from this collection