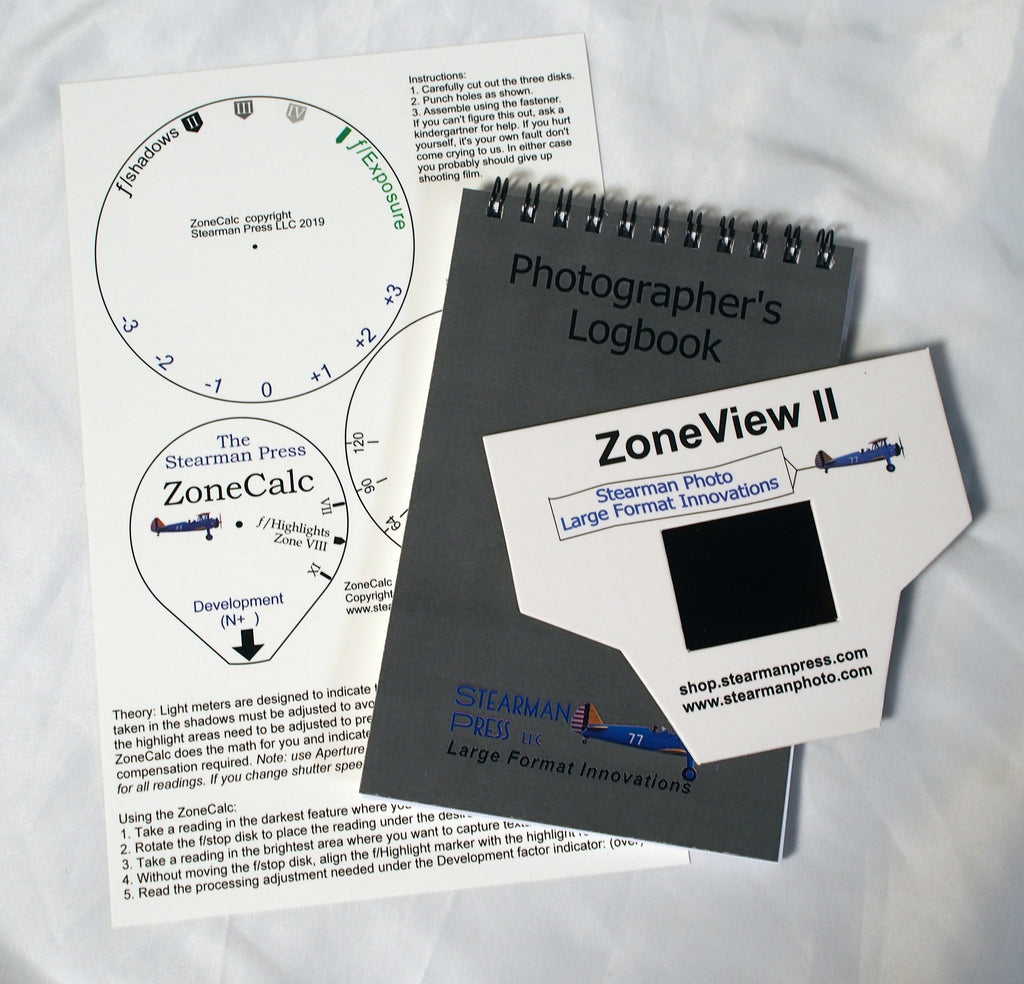 Tool Kit: ZoneView, ZoneCalc and Logbook
---
ZoneView II:
Now featuring the new and improved ZoneView II. (The new profile fits the user's face better. )  The ZoneView is a simple tool to help you visualize the image before you click the shutter! It's thin enough to carry in a shirt pocket; always at the ready. The filter provides a spectral response similar to the Wratten #90 filter and the cutout matches the height:width ratio of 4"x5" sheet film.
The ZoneView will not instantly make you the world's greatest photographer. As with any tool, it requires practice to master, but once mastered, it can make you a better photographer (at least $9 better).
To keep the cost down, the frame is made of cardboard (with a water resistant coating) and the filter material is plastic. It's designed to last for months, maybe even years, if you're careful with it.
Here's the User's Guide: ZoneView
ZoneCalc: A simple old-school circular slide rule to help you apply the Zone System to your photographs. No struggling with calculations involving EV, ISO or shutter speed.
Granted, the ZoneCalc won't solve all your exposure problems. However, it is a handy tool while you're learning how to apply the zone system. No more trying to remember what to subtract from what and what to add whenever. 
And once you're more experienced, it serves as a quick and easy check to verify that your planned exposure is probably going to workout as you hope.
More details on our blog post here: Introducing the ZoneCalc
Photographer's Logbook:  We all know that we should record every exposure but few of us do!  Each page is laid out to record one film holder, (two sheets of film).
4" x 6", fits in your back pocket (and most shirt pockets.)

50 pages, wire (not spiral!) bound for easy page turning.
Backside of each page is blank for extra info, sketches etc.
Look inside: Photographer's logbook (pdf)
---
More from this collection